BUSINESS
Optimum solution for everyone who wants to utilise Space.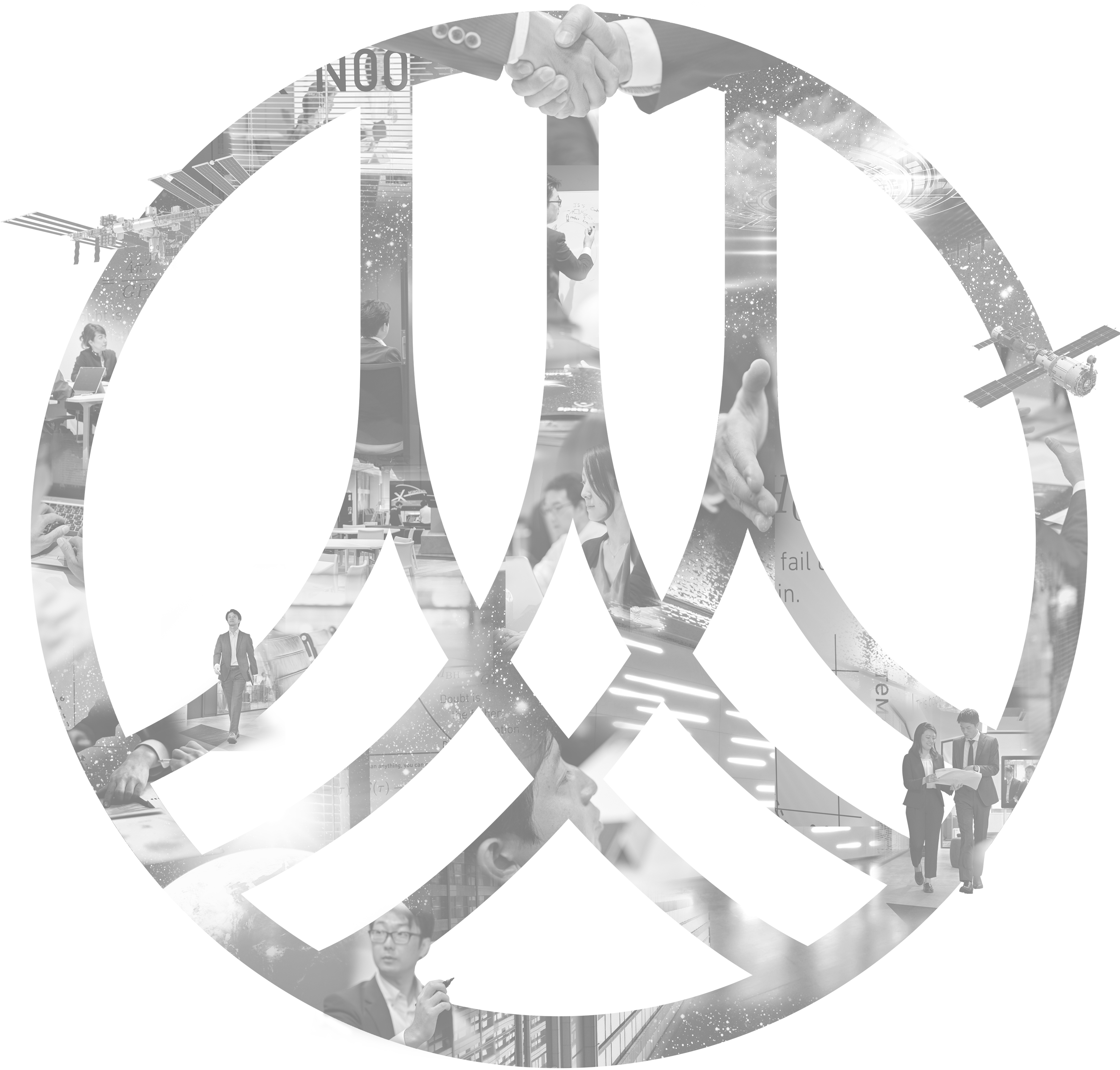 Space BD delivers the optimum plan to transport things to Space for customers aiming to launch satellites or perform experiments in the space environment.
We provide one-stop support for all matters right from technical coordination to launch execution and operations support.
Furthermore, project creation to explore new possibilities of space utilization and open up Space to other industry sectors is also one of our core services.
Satellite Launch Service
We propose the launch solution tailored to customer's needs and support the technical coordination and various reviews up to launch to offer our customers total support for their satellite launch campaign.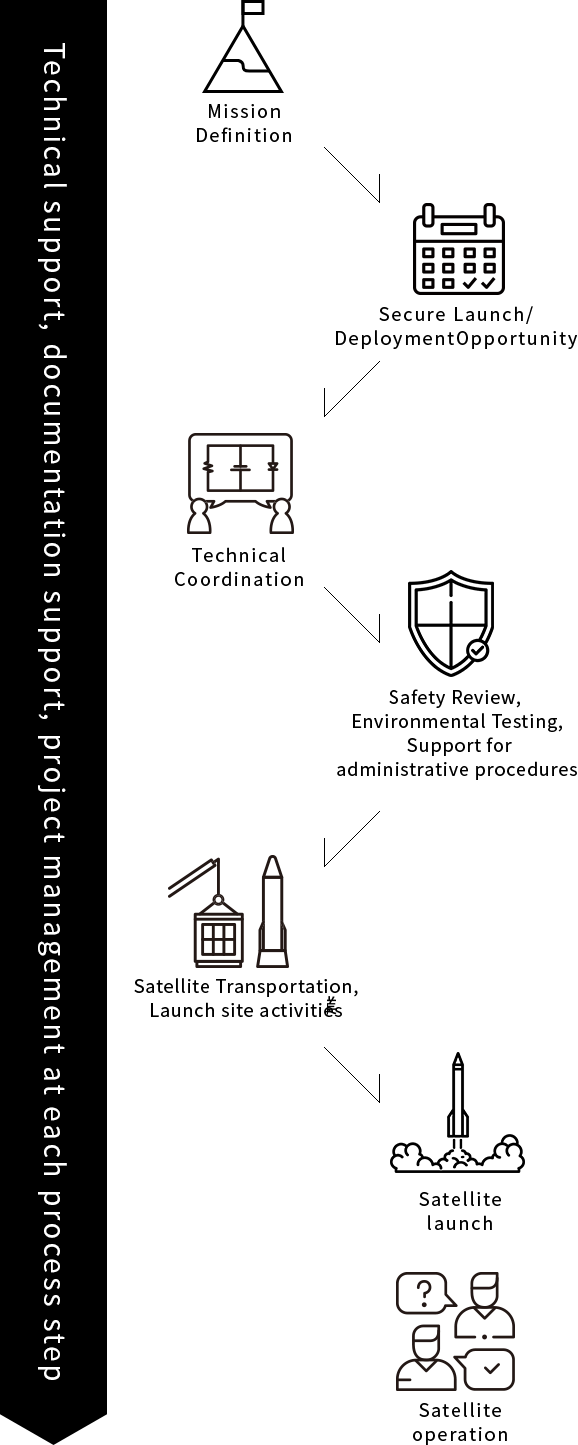 Available Satellite Launch Method
Large Launcher

Customer's satellite is launched via a piggy-back launch as a secondary payload. Cost is cheaper compared to a dedicated launch.

ISS Refueling Mission

Customer's satellite is transported to the International Space Station during the regular ISS refueling missions, and deployed from the Japanese Experimental Module "Kibo".
The satellite is launched using, for example, H2B launcher and carried to the ISS by JAXA's refueling vehicle, HTV.

Small Launcher

Customer's satellite is launched as a dedicated launch on a small launcher.
The timing of the launch can be adjusted more felxibily, and satellite can be deployed into the desired orbit.
ISS Experiment Service
Thanks to the partnership with JAXA, Space BD provides opportunities to perform experiments on the ISS using various facilities in- and outside the ISS, and support the planning and management of the whole launch campaign of the test object.
ISS Exposed Envrionment Experiment

Using the exposed platform outside the ISS, customers can conduct demonstration experiments of space equipment under space environment while receiving necessary power supply and communication capacity from the ISS.

ISS Internal Microgravity Experiment

High-Quality Protein Crystal Growth Experiment Service

Using the microgravity environment unique to space to grow the high-quality protein crystals that are difficult to achieve on the ground, which can contribute to industrial application in various life-science including drug discovery.
Broad support for the Utilization of Space
Space BD provides the satellite launch services using various methods, and the ISS experimental services as a commercial service provider selected by JAXA. By combining these service, we will propose the optimal use of space according to our customers' needs.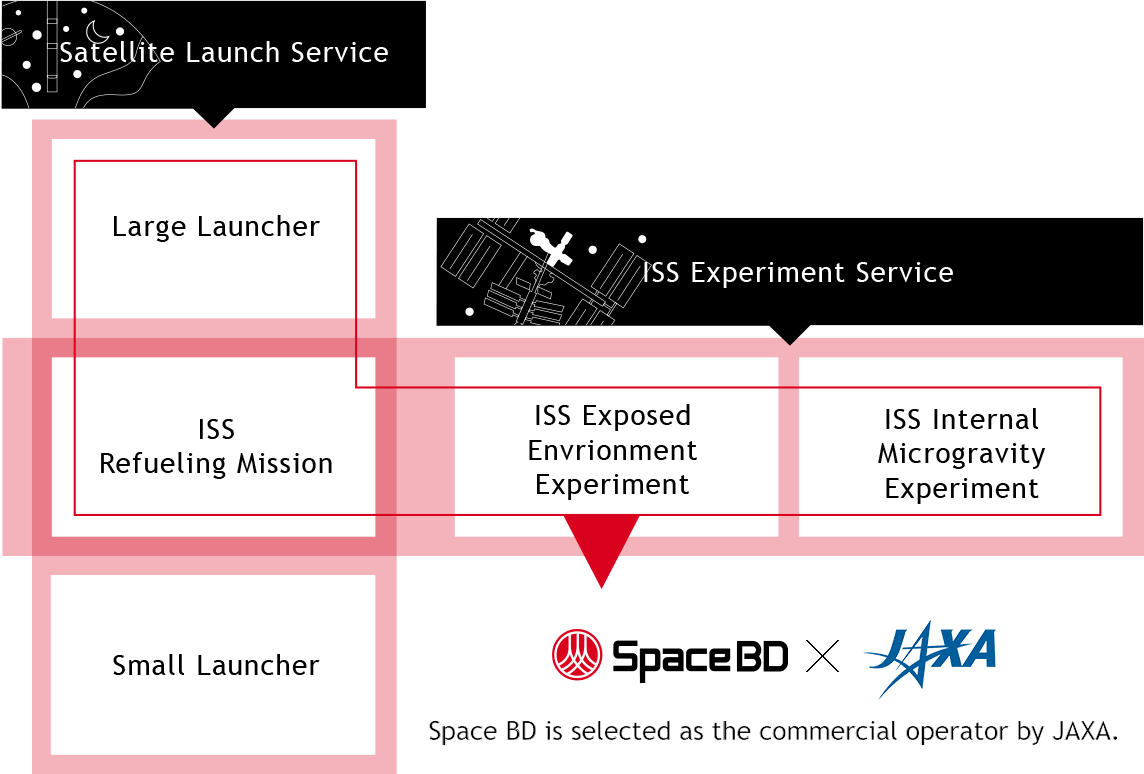 Integrated Procurement
and Sales Service
Space BD provides an integrated procurement and sales service ranging from identification of suitable components and parts, purchase negotiation, to logistics and delivery to support with customer's development and manufacturing of space-related equipment.
We support a wide range of procurement, from single satellite parts to installation of large-scale facilities such as environmental testing facilities.
Command data handling systems
Attitude and orbit control systems
Heat control systems
Environmental testing facilities
Power supply system
Communication systems
Cubesat structures
Others
Space Utilization Platform
"Space for Space"
Space BD operates "Space for Space," the first platform site in Japan aimed at utilization of space in general, to promote of engagement of non-space industries to space and creation of innovative space utilization projects.
Project-Based Business
Development Service
Space BD can lead and support development of new business ventures starting from project kick-off to all the way to implementation. We have expertise in a wide range of ventures in the space industry, such as installation of large-scale facilities, market research, overseas expansion support, etc., to ensure a successful project delivery.
Initial Assessment Phase
Assessment of business concept
Selection and coordination of partners
Pre-marketing
Development of business plan
Verification of profitability
Project Definition Phase
Creation of business implementation structure
Budget management
Creation of implementation plan
Implementation schedule management
Project Implementation Phase
Project management
Provision of technical know-how
Team building
Investigation for future expansion
Education Business
Space BD plan, develop, and operate innovative educational programs taking advantage of the knowledge accumulated through a long history of human space exploration.
Astronaut Training Method x
Next-Generation Education Program
Working with experts, Space BD is devising a next-generation education program based on the analysis of the astronaut training method used by NASA and JAXA to be used for student education, corporate recruitment and training.
AOKI Entrepreneurship
Development Program
Space BD is taking part in the "AOKI Entrepreneurship Development Project", which is a program run by the AOKI Foundation targeted at junior high school students for the purpose of developing future entrepreneurs. Space BD is applying its Space Education Business to the program, and participating in the planning and management.
AOKI Entrepreneurship Development Program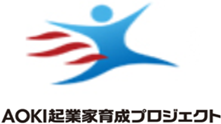 AOKI Entrepreneurship Development Program is a program that provides entrepreneurship training to junior high school students residing in Yokohama with the aim to develop future global business leaders.